Written by long time club member - Des Rudolph.
WIN A GOLD MEDAL - A STRATEGY FOR A CONCOURS WINNING CAR
'….most of all you need elbow grease (make sure you enjoy doing it!), the ability to see the job through, and motivation so that you can enjoy your Triumph and have a clean car!' - Des Rudolph
A very clear message from a man who has done a complete rebuild of a TR4 and who owned a d'etat winning TR7.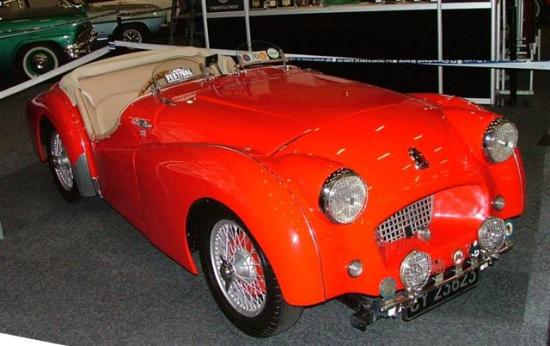 Roger Robeck's TR2 - a regular concours winner
(2006 Nationals - Hermanus)
Des Rudolph shared some practical experience with the Triumph Sports Car Club of Cape Town at the noggin on 17th July 2002:
What is Concours
d'etat vs d'elegance
Concours generally comprises of 2 classes d'etat and d'elegance, however a new class is being proposed - pride of ownership.
If a car is entered into d'etat it will be judged on authenticity, condition and cleanliness.  If a car is entered into d'elegance it will be judged on only cleanliness and condition.  So what does this mean in points?  Condition and cleanliness total 430 points maximum.  Authenticity has an additional maximum 570 points added to the total giving 1000 points maximum.   D'etat is most important to ensure the preservation of the Triumph marque.
Judging
It is important to note that an inexperienced judge can judge in d'elegance whereas knowledge and experience is required to judge in authenticity in d'etat.
Awards
Proposals are being discussed to amend the current Nationals judging system to present Gold, Silver and Bronze medals to cars that achieve a specified standard in points – (70-79% bronze, 88-89% silver, 90-100% gold).  This means that your car, when judged at your local Concours, will have to achieve at least 70% to be eligible to be entered for judging at the Nationals.   No matter how you score in your local Concourse this must not stop you from going to the Nationals and enjoying yourself.
The Cleaning Process
What to Clean
Ensure that your chassis and suspension is steam cleaned – it must be as clean as the rest of the car
Purchase and use a dust cover
The boot is simple to clean – so clean it!
Wheels and tyres including spare must be cleaned inside and outside
All it needs to clean inside your car is your labour – remember to scrub where necessary, polish vinyl, clean the upholstery
Remember your engine starts at the inside TOP of the bonnet
Bear in mind that where a judge can reach – so can you!!
Tips
Imagine the judge is going to judge your car wearing white gloves
Solvo autosolve removes oxidization (carbs and aluminium finish components leaving a satin shine)
When you spray cleaner into or hose your engine cover the distributor with a plastic bag
A hairdryer can be used to dry the engine
Clean the engine before you clean the exterior
Don't clean your engine in the garage!
Visit someone with a Concours winning car the same car as yours – or any Concourse winning car before you start your project!
If you want a Concours winning d'etat car take 100 (and more) photographs of original cars – especially if you plan to rebuild
BE CAREFUL with thinners and brake fluid
All tyres must be the same make to get full marks for tyres in the Concours
Check tyre pressure
Check oil and water level just before going to the Concours judging area (If a Triumph engine doesn't leak oil there's something wrong with it!)
When you have used Q20 or similar spray lubricant – wipe off excess
Cleaning Tools
Dish washing brush
Bottle brush
Toothbrush
Cotton wool buds (very important!)
Tiny, small medium and large paint brushes
Small fine suede shoe cleaning brush
Fine emery cloth
Cleaning Materials
| | |
| --- | --- |
| Item | Cleaning Material |
| Rubber hoses, tyres, dash, soft top | Wynns dash |
| Engine | Good quality high heat spray |
| Black plastic bumpers | Dinitrol 8020 (styling satin black) |
| Black components | Hammerite gloss black smooth spray or sprayon satin black depending on finish |
| Car polish | Shield Miraplate car polish the best and most easy to work with polish with a damp cloth in the shade |
| Car metallic finish | Rally metallic liquid wax |
| Marks on paintwork that won't come off | Brill (sold by Harvey's Cape Town) – known as 'Brill Cream' in the trade |
| Exhaust manifold and exhaust | Zebo stove black |
| Cloths | Use flannel off-cuts from factory textile shop |
Last Minutes at the Concours!
Driving to the Concourse will generate oil fumes and cover your engine in road dust – get there early and clean this off your engine before the Concours starts (remember to take some cloths!).  Use a spray bottle containing engine cleaner, or if the engine is clean Sunlight can be used. But – spray and wipe everywhere!
LAST – clean the bottom of the oil filter, the bottom of the sump and timing chain cover